SEMICONDUCTOR PHYSICS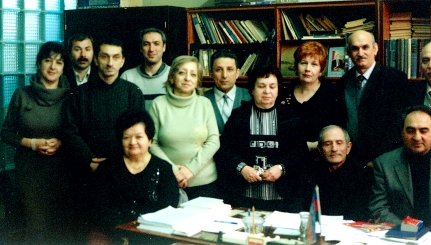 The Division of Semiconductor Physics was founded in 2005 on the base of 3 research laboratories: Semiconductor Physics, Solid State Electronics and Amorphous Films laboratories. At present time research area of the Division is "Technology, optical and electrical properties of semiconductor materials and the structures made on their basis, suitable for nano- and microelectronics":
Development of technology for obtaining luminescent micro- and macroporous Si on monocrystalline p-Si wafers by electrochemical and chemical etching and investigation of its emission, excitation, reflection and electroluminescence spectra.

Obtaining of Znx(Cd1-x,Sy)Sе1-y thin layers by chemical and electrochemical deposition and investigation of their electrical, photoelectrical and optical properties.

Investigation of the influence of gas discharge plasma on morphology, optical and electrical properties of semiconductor's surface nanostructure and polymer's nanocomposites.

Investigation of emission and electrophysical parameters of metal – semiconductor contacts with amorphous and monocrystalline metal layer.
The special attention is given to technology of obtaining of nanoporous silicon by chemical etching at oxidant insufficiency. Advantage of the given method in comparison with traditional electrochemical etching is in absence of necessity of ohmic contact and a supply voltage. In this case it is enough to dip a silicon plate in a corresponding etching solution. The technology of obtaining of nanoporous silicon in a solution HF/HNO3/CH3COOH at oxidant insufficiency is developed. Absolute reproducibility, lateral uniformity, no bubbling, possibility of management of the thickness and ability to a luminescence of the obtained samples of nanoporous Si show perspectivity of the developed technology.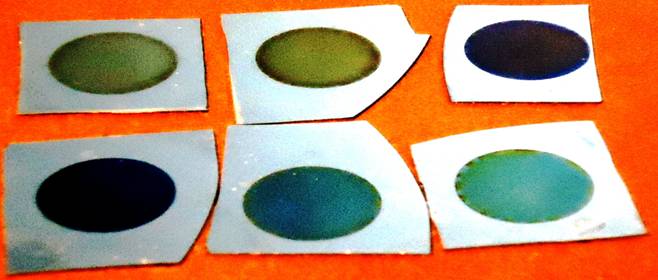 Stain etched porous silicon of various thickness
Today the Division of Semiconductor Physics offer great engineering facilities and technical possibilities for investigations. The Division has the technology bases:
obtaining porous Si by chemical and electrochemical etching;

obtaining semiconductor thin films by chemical and electrochemical deposition,

obtaining different thin films by magnetron and thermal sputtering.
The Division has the following experimental equipments:
scanning electron microscopy REM -101M

spectrophotometer DFS – 24

equipments for investigation of photoluminescence, absorption and reflection spectra

photoconductivity on the base of SPM-2 and VSU-2 spectrophotometer

ellipsometry LEF – 3M-1

magnetron sputtering VUP-2K-U

thermal sputtering VUP -2k

infrared microscopy MIL

interferometer MII – 4
Our scientists collaborate with the Centers for Nanoinvestigations, Laboratory "Inorganic Material Science" of Chemical Faculty of BSU, Institute of Physics and Radiation Problems of Azerbaijan National Academy of Sciences, with Middle East Technical University (METU) and Ankara University in Turkey.