20/02/2020
The next seminar of the Institute for Physical Problems was held on 20.02.2020.
Chief research scientist L.I.Ismailova made a presentation "Structural organization of the  tetrapeptide of glyproline molecules".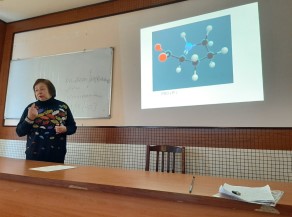 The spatial structure of the tetrapeptide glyprolin molecules Gly-Pro-Gly-Pro and analogues Arg-Pro-Gly-Pro, Leu-Pro-Gly-Pro , Val-Pro-Gly-Pro and Phe-Pro-Gly-Pro and natural molecule Pro-Gly-Pro-Gly and analogues Pro-Gly-Pro-Argç Pro-Gly-Pro-Leu, Pro-Gly-Pro-Val and Pro-Gly-Pro-Phe the conformational properties were investigated using   theoretical conformational analysis method. These glyproline molecules regulate many of functions of a living organism. Using these regulatory peptides of the human body, you can create new and effective drugs. The potential energy of the each glyproline molecule was chosen as the sum of the non-valent, electrostatic and torsional interaction energies and the energy of hydrogen bonds. The low-energy conformations of earth molecule, the dihedral angles of the backbone and side chains of the amino acid residues of the tetrapeptides, and the energies of intra- and inter-residual interactions were determined. It is revealed that low energy conformations of these molecules have the folded and half folded type of backbone. These folded forms bring parts of the backbone and the side chains of the amino acids together, and they result in convenient interactions.